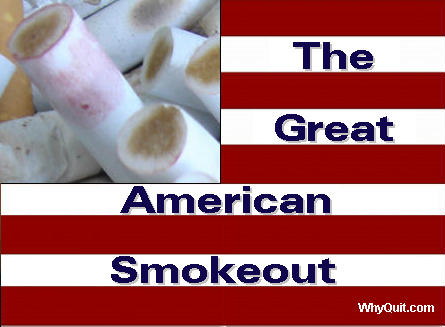 Today, the third Thursday of November, is the Great American Smokeout. This annual, nationally recognized health observance day was founded by the American Cancer Society in 1976. An estimated 15 million smokers are taking part.
Here are the rules according to
quitsmoking.com
:



You just quit smoking for the 24 hours of the Smokeout. The wonderful thing is that you won't be alone; you can swap advice, jokes and groans with the other "quitters," nonsmokers and the American Cancer Society volunteers who will be cheering you on. Even if you don't go on to quit permanently, you will have learned that you can quit for a day and that many others around you are taking the step, too.

And from SAMHSA, here is some information and resources to help smokers:


The Centers for Disease Control and Prevention (CDC)offers many resources and tools such as RSS feeds, podcasts, and a public health image library. If you'd like more information on smoking and health, contact CDC at 1-800-232-4636 or tobaccoinfo@cdc.gov.


The National Cancer Institute (NCI has many online resources and information regarding tobacco and cancer, including clinical trials, prevention, statistics, research, literature, and more. If you have a question about cancer, call NCI at
1-800-4-CANCER.


Smokefree.gov offers online guides about quitting, expert help via phone or instant messenger, and print resources. Visitors can chat with an NCI smoking cessation counselor using the LiveHelp system. Call from anywhere by dialing 1-877-44U-QUIT, or dial 1-800-QUITNOW for in-state assistance.